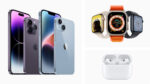 The Isle of Man's only locally-owned Apple Authorised Service Provider. Serving the Island's Public, Government and Education since 2004.
Reviews
Brilliant, sorted out my MacBook whilst I waited!
Francois Herbst
22/01/2023
Service very helpful
Ellie Phillips
24/11/2022
Great service from those at Manage IT. Had my iPhone battery replaced and picked it up within a couple hours later. Great communication and friendly service. Would totally recommend them to friends and family and would happily use their services in the future if needed.
Thank you so much for your excellent service. You took all the stress away and sorted a problem which we had, had for along time.
Once again, absolutely fantastic service from ManageIT. Dropped my faulty phone off to them, a couple of hours later, fixed and this is on New Year's Eve too ! Tony even dropped my phone off to me on his way home. Would not dream of using anywhere else and would definitely recommend to everyone. Thanks very much ManageIT. 5 out of 5 service.
The technicians are brilliant at what they do! The customer service was fantastic and they got my iPhone fixed in no time! It's so great to have an apple certified repair shop on the island so I know I'm putting my devices in safe hands! Reasonably priced and had my phone looking brand new
I arrive at their offices unannounced at 0845. The team welcome me in and asked how they could help. They took my details and ran a quick diagnostics check. I left my phone and awaited. I explained I was leaving the Island that week and need my iPhone 11 fixing. Throughout the day they came me up dated and made suggestions to ensure the process was followed up by Manx Telecom. By 3pm that afternoon I'd had a call to say the phone was fixed. I had an explanation as why it was broke and it was under warranty. They close at 1730 and I arrived at 1725. Great service
Great guys, professional service really helpful definitely try them if you need something electronic fixed